What colors will be the most fashionable in the fall and winter in 2018-2019? Which of this list will be the color of the year? We will answer these and other questions in this article.
More recently, experts of the Pantone Institute, who are the main experts in drawing up color palettes and creating new shades, announced another list of fashionable shades for the upcoming season.
In addition, Panton experts have added a list of basic palette that can be used in a business or everyday wardrobe.
Fashionable colors fall-winter 2018-2019 in clothes
All colors are based on the natural colors of autumn, which will help to make the images even more harmonious and suitable for this season. The richness of the range, presented at the fashion week in London and New York, does not seem heavy and dense due to the inclusion of bright cheerful colors that refresh the palette.
The new clothes, created by world fashion designers, best of all underline the unique trends in the colors of autumn and winter of 2018–2019 with combinations of the Pantone collection that we can expect from them.
The top 10 most fashionable colors of autumn and winter 2018–2019 include the following:
Red Pear— Red Pear
Valiant Poppy - Valorous Poppy
Nebulas Blue - Misty Blue
Ceylon Yellow - Ceylon Yellow
Martini Olive— Olives for martini
Russet Orange - Red-Yellow (Red) Orange
Ultra Violet - Ultraviolet
Crocus Petal - Crocus Petal
Limelight - Ramp Light
Quetzal Green - Green Quetzal
Additional (according to the version of designers)
+ Basic shades
Let's take a closer look at each of them.
1.Red Pear (Red Pear)
The beautiful and delightfully rich color, called Red Pear, begins the list of Pantone color trends for the fall and winter of 2018–2019. Juicy and rich maroon shade, looks incredibly deep and luxurious, he wants to immediately use in their clothes.
It is also ideal for manicure or as the basis of color solutions.
2. Valiant Poppy (Valorous Poppy)
Valiant Poppy has already attended fashion shows before as a bright representative of shades of red. It affects both in depth and in color; Everything done with its use will create a sense of dynamics and expression, the extinct warmth, which deprives it of any aggression.
3. Nebulas Blue (Misty Blue)
The lighter side of the twilight depth is Nebulas Blue.The color of autumn and winter of 2018–2019 reminds us of the color of the sky in the evening and will undoubtedly become an inspiration for many designers.
This is ideal for an autumn coat or jacket, jeans, trousers, skirts, jackets and suits.
4. Ceylon Yellow (Ceylon Yellow)
Ceylon Yellow has a green tone and hints at spicy mustard. You can use it as the main one for your outfits or use it in the form of parts and accessories.
5. Martini Olive (Martini Olives)
The olive tint Martini selected by Pantone will certainly be the perfect bridge between the darker colors to brighten the season's palette. It is the perfect shade of green for autumn, not too dark, deep or gloomy, it tends to darken and winter shade of green.
6. Russet Orange (Red-yellow (red) orange)
Reddish orange is one of the brightest colors of Pantone autumn and winter 2018/2019, imitating fallen leaves. The color will be excellent on all fabrics and even more interesting as nail polish. With a faint touch of imagination, millions of variations of it are available and muted only by the frames of the tone itself.
7. Ultra Violet (Ultraviolet)
Ultra Violet is a 2018 Pantone color. It is pure violet, without impurities, deep and soft.He personifies imagination and ingenuity, and perfectly embodies both of these descriptions. It goes well with other representatives of this list, as well as with typical colors of the autumn-winter season.
8. Crocus Petal (Crocus Petal)
Crocus Petal is the easiest and most romantic of all the colors of the Pantone palette for autumn and winter 2018–2019. It is soft and resembles the last remnants of spring and summer bouquets, demonstrating the endurance of the last of the brightest purple-lilac decorative flowers of hydrangeas that were supposed to bloom before winter.
9. Limelight (Ramp Light)
Limelight is bright and "sharp", as described by Pantone. It is the lightest and brightest of the Pantone 2018/2019 range offered for the autumn-winter palette, only brighter than the yellow color of fallen leaves.
10. Quetzal Green (Green Quetzal)
Quetzal Green is the surest embodiment of a bright but deep tone. It can not be confused with any other shade. This is a sensational combination of blue and green, which is sure to be on the catwalks of the most famous fashion houses.
Very similar to the well-known color of sea wave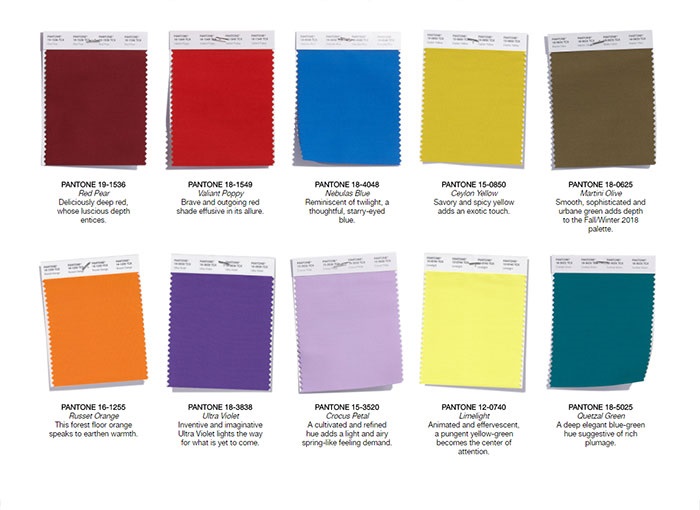 Additional (according to the version of designers)
11. Mellow Rose - Juicy Rose
Mellow Rose is one of two sleek and vibrant shades unique to color trends in London in 2018.It is one of the colors of autumn and winter of 2018, which is the softest of the autumn colors ever proposed, which makes this palette unique and stunning. Soft pink is usually not considered a touch of the autumn-winter season.
12. Pink Peacock
The Pink Peacock is another exclusive spot for the 2018 Winter London Color Trends Palette. An impressive shade will be perfectly combined with most skin tones, so it will be even more stunning in a trendy mix of styles.
Most of all, it resembles crimson in its characteristics.
Classic color palette
The basic range is the main for any wardrobe. It is modern at any time and does not depend on fluctuations in fashion trends. You can take these colors as a basis, wear them in any season, adding to them actual shades, interesting fabrics, textures, patterns, creating beautiful combinations and original bows.
So, what is the color of the elements of the basic palette autumn-winter 2018-2019?
13. Sargasso Sea (Sargasso Sea)
Sargasso Sea - the latest incarnation of dark blue. It is dark and intriguing, it can be used in the dress of any style. Its main feature is the ease of combining with other colors of autumn and winter 2018-2019.
14. Almond Bluff (Brilliant Almond)
Almond Bluff is a nice and soft nude tint of camel tone that will look good for different tones. Body is always present in the wardrobe of fashionistas in different types of clothing, and Almond Bluff is the best color to fit perfectly.
15. Tofu (Tofu)
Tofu is not a completely white tone for the autumn and winter season. It is not too bright, sharp or crisp, and the attractiveness that it has as a light tint will not have analogues in the color trends of autumn and winter of 2018–2019.
16. Quiet Gray (Calm Gray)
A mild and subdued shade of gray that perfectly fits any outfit. Light and light, it will complement the image in a classic or sporty style.
17. Meerkat
Pleasant brown tone will help to diversify outfits in different styles.
Table combination of trendy colors
Each color from the palette from Panton found the best combinations in our tablet (in the photo). You can combine both the main and the additional as well as the two main ones, which stand in the same row.
Stylists recommend using no more than three colors in one bow.
Fashionable colors autumn-winter 20182019 according to experts of the Pantone Institute
Fashionable colors autumn-winter 20182019 according to experts of the Pantone Institute
Fashionable colors autumn-winter 20182019 according to experts of the Pantone Institute
Fashionable colors autumn-winter 20182019 according to experts of the Pantone Institute
Fashionable colors autumn-winter 20182019 according to experts of the Pantone Institute